Despite the ongoing Covid-19 crisis, the assets under management held within Responsible Investment funds now stands at £158 Billion – up 14% from the previous six months. The ninth
Good Investment Review
, brought to you from 3D Investing and Good With Money, highlights this growth in responsible investment and how sustainable funds have outperformed the sector average over the last five years – and in particular throughout the coronavirus pandemic.
John Fleetwood, founder of 3D Investing and Director of Responsible and Sustainable Investing at Square Mile, argues "positive impact need not come at the expense of financial returns, and if anything, investing for positive impact can improve returns."
This latest edition aims to shed a light on the different approaches to Responsible Investment and clear up some of the confusion around the terminology. The review also covers the recent developments in the 3D Investing methodology for identifying and verifying a fund or fund manager's responsible investment credentials and credibility.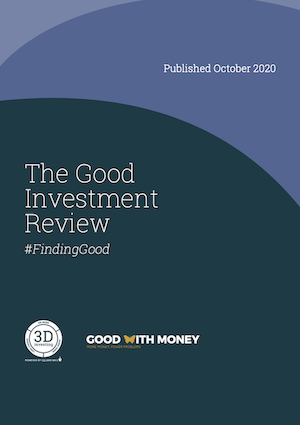 The review includes the full list of funds which hold a 3D Investing Impact Rating, for those funds where the majority of the holdings are demonstrating a significant positive contribution to the relevant UN Sustainable Development Goals.
It also features must-read commentary from some of the UK's top fund managers, including:
Victoria Leggett and Mathieu Nègre, Union Bancaire Privèe
Mike Appleby, Liontrust
Seb Beloe, Wheb
Marjorie Winfrey, Wellington Management
Ed Heaven, Montanaro Asset Management
Noelle Cazalis and David Harrison, Rathbones
Marc-Olivier Buffle and Cèdric Lecamp, Pictet Asset Management
Eva Cairns, Aberdeen Standard Investments
Meg Brown, Impax Asset Management
Deidre Cooper, Ninety One
Ben Constable-Maxwell, M&G Investments
William de Vries, Triodos Investment Management
George Critchley, Pennine Wealth Solution